Organization
Alliance Operation City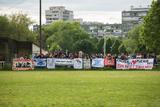 Alliance Operation City (former Alliance for Independent Culture and Youth Center) is a collaboration platform of NGOs, art organizations, informal groups and individuals. Formally, Alliance is an association of 28 member organizations.
Its mission is to foster development of independent culture and self-organizing of youth actors through various activities: art and cultural programs such as Operation:City, international conferences, and regular public discussions. Alliance initiated and founded, together with the City of Zagreb, a public institution that provides basic services and manage infrastructure for programs of civil society organizations – POGON – Zagreb Center for Independent Culture and Youth.
Member organizations work in the sector of independent culture and the youth. These organizations implement projects and activities in various fields such as active participation of the youth in the society, youth culture and creativity, urban culture, contemporary art, theatre, dance, performing arts, non-formal education in various fields, providing information to the youth, new media and technology, youth mobility, youth policies, cultural policies, architecture and urbanism, music culture, film and video etc.