Organization
KompleX KapharnaüM - migration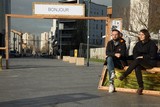 Founded in 1995, KompleX KapharnaüM has constantly reflected on gatherings that would smear the boundaries between audiences and inhabitants, between stage space and the public sphere, whether on a local, national or international scale. A team of about 50 artists and technicians (videographers, musicians, writers, performers, visual artists) has been creating performances in over 50 cities in France and across 15 countries in and out of Europe over the last 20 years.
By bringing together people with different abilities and extending conventional frameworks of theatre performances, KompleX KapharnaüM creates and opens experimental spaces in public space.
In 2017, KXKM migration started: a multidimensional artistic project combining an architectural project and a transforming artistic base camp.
migration is interfering in the city through the deployment of an architectural kit composed of polymorphic panels. These 60cm by 2m40 panels can: integrate sound, light, videos; become a projection surface such as interactive and audio visual displays.... The migration panels are transformed according to the contextual installations and projects.
Migration offers a new form of artistic permanence: shared spaces linked to the territory and local actors (theatres, social centres, media libraries, museums, associations...). It proposes a new cultural place: tailor-made, connected to its audiences, with a plasticity that responds to the context, which can be identified by its immediate presence and its trace after its departure. Through migration, experiences of living together are practiced: social immersion, appropriation of architectural structures, (inter)cultural permanence.