Organization
MilesKm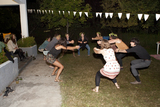 MilesKm is both a series of experiments encouraging international collaboration and a sustained practice driven research project. Both aspects of MilesKm strive to challenge existing structures within the Arts, while offering potential alternative frameworks.
MilesKm focuses its attention on illustrating the value of collaboration and learning. These themes form the centre of MilesKm's current project TREGUA, a traveling circus of Europe, exploring notions of democracy and national/European identity through place-making, collective action and performance.
Past projects include PACTO, a 1 year program where participants collaborated remotely and met during residencies to discuss communal negotiation of autonomy; TANTEO, a 2 month touring art school around the UK; residencies in Utrecht and La Rioja and collaborative exhibitions in London and Madrid.