Organization
SEAS - Socially Engaged Art Salon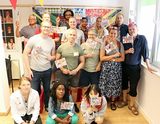 SEAS (Socially Engaged Art Salon) is a space for exhibitions, events and workshops, and an artist's residency that concentrates on socially and politically engaged practices and themes. Founded in 2016, SEAS has became a beacon for socially and politically engaged art in Brighton and the south-east England. It is part of the Social Art Network and has links to local and national art organisations that engage with issues of social justice, refugees and migration.
SEAS was created originally in the house of Dr. Gil Mualem-Doron, built in the 18th century for servants of the Royal Pavilion. A successful programme of exhibitions and events drew in hundreds of visitors and participants, a new programme of community art workshops, and links to other community and arts organisations. This success led SEAS to the move to a much bigger space at the BMECP – (Black and Minority Ethnic Community Partnership) Centre, near Brighton train station and to a partnership with the Euro Mediterranean Resources Network and Social Art Network (SAN) UK.
SEAS operates about five exhibitions per year, usually during other festivals in Brighton such as Artists' Open House / Brighton Festival, Brighton Photography Biennale & Photo Fringe, Black History Month, LGBTQ History month and Refugee Week.
SEAS was founded and is directed by Dr. Gil Mualem-Doron who is a socially and politically engaged artist working in various media chiefly photography, digital art and installation and performance using participatory practices. His work investigates issues such as of urban history, social justice, identity and in particularly transcultural aesthetics, migrations and displacement. His work has been exhibited extensively in the UK and abroad including Tate Modern, the Turner Contemporary, Liverpool Museum, People's History Museum, Turner Contemporary and recently Rich Mix London.