Organization
Shared Walks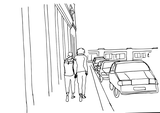 Shared Walks was initiated by Eylem Ertürk and Bernd Rohrauer in the framework of the Social Design_Arts as Urban Innovation Department at the University of Applied Arts Vienna in 2018, and continues as an independent project as of 2019.
Eylem Ertürk has been working as a creative producer in İstanbul since 2005. With a background in fine arts photography and management, she dealt with local cultural policies and socially engaged artistic practices. Living and working partly in Vienna since 2017, her studies and work are related to making artistic research on social issues, designing creative structures for social change and opening platforms for urban participation.
Bernd Rohrauer has been teaching multimedia and fine arts, working with artists from different disciplines and dealing with youth and community work in Austria since 2004. Having a background in fine arts and a master degree in clinical and spatial social work, he now deals with projects related to participation in Vienna.