Organization
Twee-eiige Drieling; TWIIID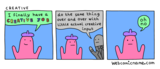 Twee-eiige Drieling (abbreviated as TWIIID) is an advisory firm in the arts dedicated to finding fair, simple, correct and sustainable solutions to legal, business and communication issues within contemporary art practices. We work for individual artists as well as established arts and advocacy organisations. TWIIID consists of two people - Jens Van Lathem (Master in Law) and Tobias Van Royen (Master in Law & Cultural Management) – who grew up with a special love and interest for the arts – both being active in different parts of the music sector, blogging and performing/recording. We are active in short-term consultancy as well as long-term guidance trajectories.
After working for Cultuurloket (a subsidized, free advisory organisation for the arts in Belgium), we started our own company with a focus on three key issues: learning through transparency, valuing ourselves fairly without harm to our clients and highlighting 'forgotten' or 'overlooked' solutions by traditional intermediary organisations and managers.
As TWIIIID we guide designers, composers, instrument-builders, visual artists and theatre makers in finding correct and understandable solutions to their legal and business problems. We act as a sounding board and only take actions or implement solutions which the artist or organisation understands 100% and can implement themselves or take over should our help no longer be needed or financial contexts change. Describing ourselves as 'legal management' or 'soundboard', we do not in any case take a 'cut' or percentage on the income generated by the artists themselves. We work with an adjustable flat rate which allows financial room for artists and organizations to grow. Last but not least, our legal/business background, work experience and simple communication style allows us to focus on solutions in authors' rights, social security law, labour laws, remunerations and organisational models which are deemed 'too complex' by traditional service providers.