Organization
UKK — Organisation for Artists, Curators and Art Mediators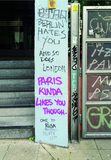 UKK is an organisation supporting artists, curators and art mediators in Denmark. In strengthening the development of critical consciousness around systemic agencies in art and relationships between art and finance, UKK wishes to show how artists and curators are key constituents of these relationships, and have the capacity to directly affect them. UKK was founded in 2002 and has since represented primarily the younger contemporary artists and curators, but has recently opened up to members from any age as well as initiated student memberships and representatives. UKKs ongoing interest is to explore in which ways we care for and organise the field of art at macro scale / collective levels.
Gro Sarauw is a visual artist, chair of UKK. She is a graduate of Goldsmiths MFA Fine Art with an extensive background in architecture. She is a member of the artistic and design group The Winter Office (TWO) with whom she will be producing two solo exhibitions in L.A. in 2019. Exploring blends of art and architecture in relation to spatial justice, TWO practices solutions in a process of thinking that goes beyond hierarchical notions of creativity. Integrating their design/academic disciplines into a practice of spatial justice, the construction of a new notion of the urban landscape is the outcome. / www.grosarauaw.org
Maj Horn (b. 1987, DK) is a visual artist and chair of UKK. She holds a master's degree from the Funen Art Academy. She works collaboratively on projects dealing with public spheres and communities, by looking into aspects of knowledge sharing, the acquisition of sites, and the identity and atmosphere of places. Horn's ongoing project, is a process-driven work at the art platform Beijing22 (China), will be generating knowledge on the borderlands and methodological intersections present in socially engaged art and architecture, responding critically to contemporary urban planning in the city of Beijing.