Organization
Zuloark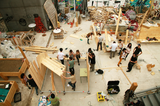 Zuloark is a distributed architecture and urbanism open office, founded in 2001. We develop flowing and collaborative working contexts in co-responsibility environments.
Zuloark is meant to be a 'proximity development area'; we count on the knowledge and the experience of each individual member to teach each other how to do stuff we didn't know before.
Related projects:
- El Campo de Cebada (Since 2011)
Is a neighborhood-driven public space built in the center of Madrid. The participative strategy is to deliver an infrastructured public space with common tools available to all users in order to build their own city in a non-driven way.
- The Universal Declaration of Urban Rights and Urban Parliaments (Since 2011) TUDOUR is not meant to be a fix proclamation but an evolutive manifest for the common construction of the city, an environment to enable active thinking, making possible the qualitative management of information about our urban environments and what it means to be a citizen. An UP is a physical infrastructure to discuss about the city in a place where all members are equal.
- CityKitchen (2012 - 2014)
The city has become a resource for social and cultural revitalization for citizenship. CityKitchen is a bridge between citizens and administration to create mutual reliance, participation and co-responsibility in the truly contemporary city making.

- Ciudad - Escuela (2014 - 2016)
#mobiliarist-manifesto Project in collaboration with MNCARS Museum and the Mozilla Foundation Open Badges Technology to legitimate the knowledge and skills that citizens, as city actors and users, are achieving and generating through online or non-standard pedagogies.
- Los Madriles (Since 2015) An active online map or an qualitative atlas of citizen initiatives in Madrid.